Tuesday Thoughts from Sea #005
View this email in your browser
Hi Friends!
Happy belated Father's Day to any dads reading this. I know my Dad is reading, or at least, he tells me he is. Here are five things I've learned from my Dad:

Always provide for your family. Working as a restaurant manager means he worked every weekend, every holiday, and whenever his crew called out. Despite being far from rich, he provided well for his family, and helped his children get situated into their own homes.

Always do it the right way. Having literally rebuilt a house and renovated several others, he never looks for the quick fix. He can seemingly fix anything and ensures his repairs are made to last, despite the amount of added work that often requires. There's a right way to do things. That's the only way.

Always be there when needed. Whether helping to build my Pinewood Derby car as a Cub Scout, pulling out the front end of my first car after the first fender bender, or driving to Atlanta between shifts to pick me up returning from deployment (I drove the return trip so he could get some sleep before being dropped back at work), he made it happen.

Always be generous. The collection of people around my parents' house on the holidays always seemed like the island of misfit toys as he'd adopt people from all different social statuses and walks of life, but everyone enjoyed each other's company (and, admittedly, Mom's food).

Always more in the tank. Despite working a career that averaged over 60-70 hours a week, he always had the energy to keep going. I remember our first year in Florida. He was still in New Jersey, working a full-time job, rebuilding a house that burned down in a fire, and driving back-and-forth to Florida for a few days seemingly every other week. Tireless.

This is a significantly incomplete list, but thank you Dad, boss, old-man. (I served tables for him at Denny's during college -- he got some different titles!)
---
Photos of the Week:

Tiffany and I enjoyed a few days in Seattle. Now we're headed to Alaska!

This is behind Pike Place Market, just above the waterfront.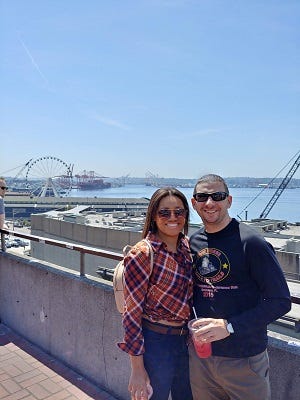 The Museum of Pop Culture may have been our favorite attraction. There were exhibits on iconic Seattle bands Nirvana and Pearl Jam as well as fantasy, sci-fi, indie games, etc. We even rocked out on guitars and drums in a private sound booth (and the rest of the world should be thankful)!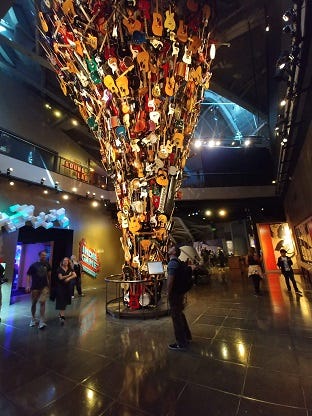 ---
What I'm Reading:

In Antifragile: Things That Gain from Disorder Nassim Nicholas Taleb states the opposite of fragile is not robust, but anti-fragile. Anti-fragile things don't just survive, but thrive from volatility. Everything is measurable on a scale from fragile to robust to anti-fragile. 

To become anti-fragile, we need to embrace a system of trial and error. We need to love small mistakes, what Taleb calls the "barbell" strategy. If we avoid mistakes, we'll find ourselves highly susceptible to the large, irreversible mistake or catastrophic "black swan" events.

Modern society has become extremely fragile, "This is the tragedy of modernity; as with neurotically overprotective parents, those trying to help are often hurting us the most."
---
Quote to Think On:

"The person who says he knows what he thinks but cannot express it usually does not know what he thinks."
— Mortimer Adler
Thank for reading! I would greatly appreciate the gift of feedback. Hit reply or message me on Twitter (@scottkrouse).

Have a great week!

Scott
If you enjoyed reading this email, do me a favor and share this with your friends using this link: http://scottkrouse.com/newsletter or clicking a button below: